What Happens to a Reverse
Mortgage After Death?
July 8, 2022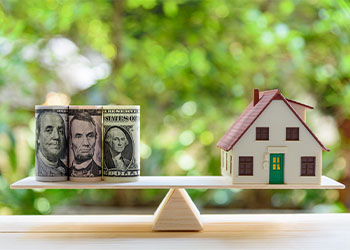 In Pennsylvania, a reverse mortgage loan is available to seniors who are 62 years or older. By taking out a reverse mortgage, a homeowner can obtain a home loan with no monthly mortgage payments while using their property as security. However, when the consumer dies, the surviving loved ones may be concerned about the outstanding loan. An experienced Pennsylvania real estate attorney can enlighten you about what happens to a reverse mortgage after the borrower's death.
At Luvara Law Group LLC, we're dedicated to offering experienced legal counsel and reliable advocacy to clients in real estate legal matters, including reverse mortgages. Our skilled attorneys can enlighten you about how a reverse mortgage works and explore your possible options to satisfy the debts or loan balance when the borrower dies. We're proud to serve clients across Pittsburgh, Uniontown, Greensburg, Waynesburg, Washington, and New Castle, Pennsylvania.
How a Reverse Mortgage Works
A reverse mortgage can be described as a financial arrangement that allows eligible homeowners – 62 years or older – to convert their home equity into an installment or lump-sum payment. The purpose of a reverse mortgage is to help retired seniors with supplementary income to meet their living and healthcare expenses using the accumulated wealth in their property. As long as the borrower continues living in their home, they don't have to make any monthly mortgage payments.
Who Is Eligible?
In order to be eligible for a reverse mortgage, you must meet the following requirements:
You must be at least 62 years old.

You must be living in your home as your primary residence.

You must be the outright owner of the property.

You must have enough financial resources and assets to pay for property taxes, homeowners insurance, and HOA fees.
If you are an eligible homeowner who is looking for cash to meet your everyday living expenses, you can use your house as an advantage by applying for a reverse mortgage. The major benefit of getting a reverse mortgage is that you don't need to pay back the loan until it becomes due and payable.
What Happens After Death
The loan balance on a reverse mortgage becomes due and payable following the passing of the borrower and eligible non-borrowing spouse. Upon their death, the heirs will receive a due and payable notice from the creditor or lender. The survivors or heirs will have up to 30 days from receiving the notice to pay off the reverse mortgage and settle the outstanding debt.
The available options to pay off the reverse mortgage after the death of the borrower include:
Purchasing the home

Selling the property to satisfy the mortgage balance

Turning the property over to the lender by providing them with a deed instead of foreclosure
Essentially, a reverse mortgage isn't free money. The recurring payments made to the borrower by the lender have to be repaid. The heirs may have to sell or vacate the property. In the event that the reverse mortgage property is inherited, the beneficiary – spouse, family member, or friend – will be responsible for the loan when it becomes due and payable.
How a Knowledgeable Attorney Can Help
Seniors may be eligible to take out a reverse mortgage loan by converting their home equity. However, a reverse mortgage isn't free money and must be paid back once the borrower dies, sells, or vacates the property. An experienced real estate and family law attorney can explore your available options to resolve the loan balance when the borrower dies and help you determine the best course of action.
At Luvara Law Group LLC, we have the diligence and expertise to advise and guide clients in complex real estate matters involving the repayment of reverse mortgage loans. As your legal counsel, we can review your unique situation and help determine the best way to satisfy the loan balance once the borrower passes away. Also, our attorneys will work diligently with the non-borrower spouses and heirs to resolve reverse mortgage disputes peacefully and quickly.
Contact Luvara Law Group LLC today to schedule a simple case assessment with knowledgeable real estate attorneys. Our trusted team can offer you the personalized legal guidance and brilliant advocacy you need. Our firm proudly serves clients across Pittsburgh, Uniontown, Greensburg, Waynesburg, Washington, and New Castle, Pennsylvania.