Family Law FAQs
April 11, 2022
At Luvara Law Group LLC, we're committed to hearing your side of the story so we can fully understand your needs and help you recognize what options are in front of you. Whether you're going through a divorce, child custody negotiation, or any other aspect of family law, we're here to help. When life throws you a curveball, you need someone on your side who knows how to listen and help.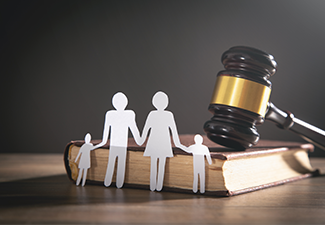 Luvara Law Group LLC proudly serves clients in Pittsburgh, Pennsylvania, and throughout the surrounding areas including Greensburg, Washington, Waynesburg, Uniontown, and New Castle. Call us today to get started.


Family Law FAQs
I was just served with divorce papers. What are my next steps?
If you've been served with divorce papers, you have 90 days to respond. At this point, there is nothing you can do to stop the divorce from happening, but you do have an opportunity to have your voice heard. The best thing you can do is meet with an attorney who can help you understand the terms your spouse has laid out and assist you in submitting your response. Most importantly, since this tends to be an emotional time, someone needs to listen to you and help you process the steps that are going to take place and which ones you can affect. You need to know what to do and what not to do.
How long will it take to get divorced in Pennsylvania?
This will depend on the terms of the divorce and whether it's contested or uncontested. An uncontested divorce can take as few as 90 days, while a contested divorce could take a year or longer. If a couple is unable to communicate with one another and can't come to agreements on alimony, child support, asset division, and other matters, the process can be drawn out for several months and at times, for years. The goal at Luvara Law Group is to reduce the time of this litigation in order to keep your legal costs lower. We believe that if we help you accomplish this, you will be more apt to refer us to others you know who need legal help.
What is the difference between a legal separation and a divorce?
A legal separation is not as binding as a divorce, but it can often be the first step. A legal separation is more of a factual separation and is not recognized as being legal within the statutes of Pennsylvania. However, separation allows any agreements on joint assets to end and can allow couples to draw up agreements on child custody and support that can be used in the interim before the final divorce.
When is mediation a good option?
Mediation is often a preferable way to go about divorce in Pennsylvania, especially if you're on decent speaking terms with your spouse (even if they're not your favorite person right now) and if you're trying to save money. During this process, a divorcing couple meets with a trained, neutral mediator, who may or may not be an attorney, and who helps to facilitate building an atmosphere of understanding of the respective issues in conflict and allows the litigants to come to agreements on asset division, spousal support, child support, custody, and more.
Who gets to keep the home during a divorce?
Pennsylvania is an equitable distribution state which means that assets are split fairly but not necessarily equally, and this applies to homes as well. If your home was jointly owned and considered marital property (meaning it wasn't acquired before the marriage or called out in a pre-or post-nuptial agreement), a judge can allow one partner to live there, but this will usually mean the spouse who stays must buy the other one out. You may also choose to sell the house and split the proceeds evenly. Additionally, if one gets the house, the other may get an offsetting asset or series of assets. The debt on the house may need to be addressed as part of the negotiation or litigation.
How do I make or modify a child visitation schedule?
Once a child visitation schedule is confirmed by the court and put into place, it's very important that it's followed. Withholding visitation for reasons like missing alimony payments or late child support is strictly prohibited and could jeopardize your custody arrangement. Your first step if you want to modify your schedule is to talk with your co-parent. If you both agree on a new schedule, a judge will almost always approve it. If your co-parent does not agree to a change, you can request that the court review your schedule.
I'm not sure I'm the child's father. What are my options?
The issue of paternity must be resolved for issues concerning child custody, visitation, and support. If you have doubts about whether you're the biological father, you should file a "Petition to Determine Paternity" with the courts where you can take a DNA test to establish (or disestablish) paternity.
Family Law Attorneys in
Pittsburgh, Pennsylvania
If you're looking for a family law attorney you can trust in the Pittsburgh, Pennsylvania area, call Luvara Law Group LLC. We have over seven decades of combined experience working with clients in our community. Let's discuss your situation today. Let us listen to you.